Lt. Col. Y. grew up in a reality where his father is looked at strangely, because he lost his hand in the Yom Kippur War. In an event he produced in honor of children with physical disabilities, he proved to everyone what he learned from his father from childhood.
On this exciting day at the Tel Nof base, and we received a lesson on acceptance and faith.
A special delegation arrived last week at the Tel Nof base - about ten children aged 14-8, with physical disabilities, on behalf of the Pragrotrali organization. The person responsible for the initiative is Lt. Col. Y., a fighter pilot from the 133rd Squadron who has this issue close to his heart.
"It started by chance," admits Lt. Col. Y. "The association, which produces special cars for children with various disabilities, organized a large event for children in the kibbutz where I live. They asked for some volunteers to operate the compound, and I volunteered. "
"Seeing the joy and excitement of the kids and their families, it was an amazing feeling. I noticed that a lot of the kids' cars were designed like airplanes and spaceships, and I realized - there's an opportunity here."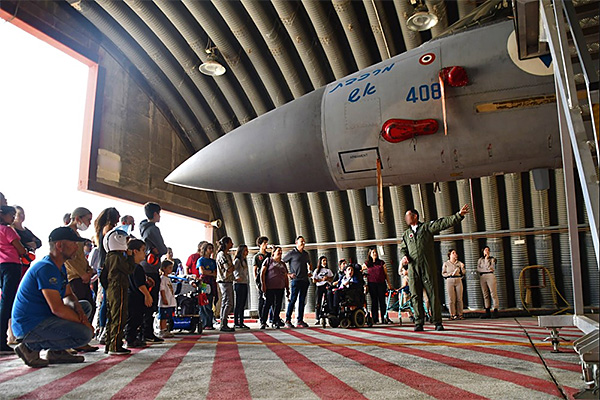 This special community is closely known to Lt. Col. Y., who was born to a disabled IDF father from the Yom Kippur War. "I only know the reality of a father with one hand. As a child I felt this dissonance - on the one hand a father who is omnipotent, the best father, he also competed in the Olympics and won medals. On the other hand - always when we came to new places, they would look strange, not understand. "
"I think it necessarily made me more sensitive, specifically to people who are different or have disabilities. A lot of times you see the disability first. My dad taught me to look inward, first and foremost at the person. So when I felt the kids' excitement and got the chance to rejoice "With them, and I saw how much they love planes and spaceships, I took it with both hands."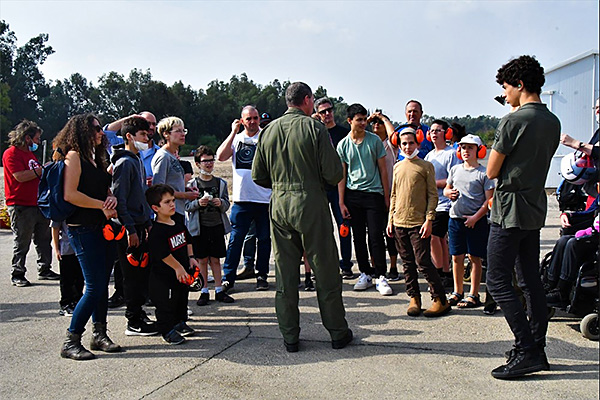 Thus all 133rd Squadron enlisted for the mission. Last week, the children, accompanied by their parents, came for an experiential day of learning and experiencing the air world. "They heard an explanation about the squadron, saw planes take off and land, wore flight equipment, and even got a glimpse of a fighter jet," Lt. Col. Y. recalls excitedly.
"For me, the highlight was when they got to the cockpit. You have to climb a ladder to get to it. There are children who can walk a little at most, and I saw how hard they try to get on. The children who can not walk were taken by the hands. I saw their eyes gleaming. "They are excited. It is a very special experience, which they have never experienced."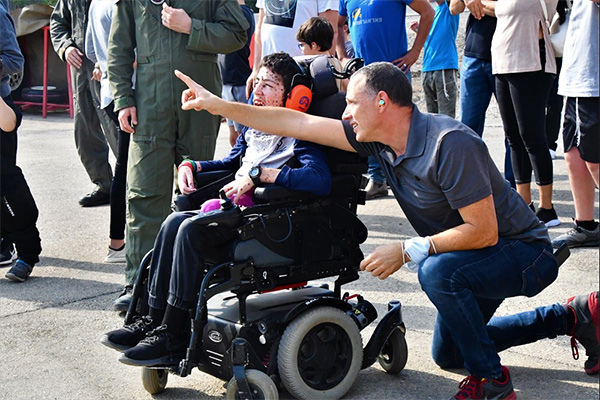 "The feedback we received from the parents," he says, "was unbelievable. We received a lot of messages. Some shared the challenging routine of life, which sometimes includes round-the-clock treatments. This day was a sigh of relief for them, and they were excited to see how good it did for children and the whole family."
The positive reactions did not only come from the excited families, Lt. Col. Y. admits: "The soldiers in the squadron also said how good it was for them. Everyone was fully mobilized for the mission, and in the end they said they thought they were coming to donate, but in fact received no less. It was special for all of us, and I know we want to continue this initiative in the future as well. "