Amos Luria was seriously wounded in the 1970s war of attrition and was forced to retire from the army.
However, when the Yom Kippur War broke out, he cmae to serve and was a partner in the establishment of
an impromptu tank force and commanded it in a heroic battle against the Syrians. He later returned to permanent
service and was discharged with the rank of colonel.
"Disability is not a limit, everything is in the head," he told his soldiers.
On Yom Kippur 1973, student Amos Luria prepared to complete important tasks as part of his studies in the Department of Economics at Tel Aviv University. Shortly before, he was discharged from regular service in the IDF. After losing his hand in an Egyptian shelling, he realized that his future as a combat officer was over, and he decided to leave the army.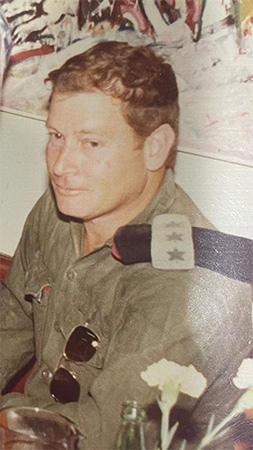 Towards noon he began to hear from the street an unusual tension. He turned on the radio and realized that war had broken out. The young armored officer, who had already taken part in the battles of the Six Day War and the War of Attrition, felt the intensity of the incident. He felt forgotten from the heart, as someone who no longer needed him, or so he described it.
But within a few days he was already a partner in the establishment of an armored battalion, out of nowhere. The same improvised battalion led the heroic battle of the "Valley of Tears", at the end of which the IDF captured the Syrian town of Zirat Beit Jen in the northern Golan Heights.