She's only been running for five years, but Ultra-Orthodox marathoner and mother of five Beatie Deutsch is breaking records and stereotypes.
It's not every day that Europe's largest sportswear manufacturer features an ultra-orthodox Jew on a billboard.
But that's precisely what happened when Adidas portrayed Israeli national marathon and half marathon champion Beatie (Bracha) Deutsch in an ad campaign earlier this year along Tel Aviv's Ayalon Highway.
The 31-year-old mother of five, who immigrated to Israel at the age of 19, recently appeared in the company's "Impossible is Nothing" campaign in her signature look – a below-the-knees skirt, ¾-length sleeves and a headscarf.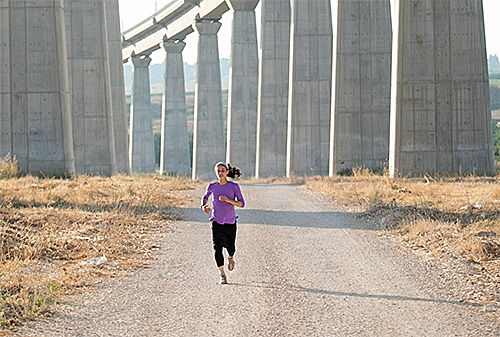 But this isn't the first time that American-born Deutsch, whose moniker on Instagram is @marathonmother, has defied stereotypes.
Nothing about her story is normal.
Deutsch, who narrowly missed competing for Israel in the Tokyo Olympics, came to the sport only five years ago. She began running after the birth of her fourth child – the fourth in six years.
After losing too many informal races at family reunions on the beach, Deutsch decided to commit herself to training for a marathon to get in shape. Her first official race was the 2016 Tel Aviv Marathon, which she ran with a time of 3 hours and 27 minutes.
Deutsch, who is a tiny 1.5 meters (4-foot-9) tall, ran her next marathon a year later, in 2017, when she was seven months pregnant, training until the day she gave birth.
Her race time for the marathon – 4:08:16, hinting at a great deal of untapped potential.
For Deutsch, running has become a meditative experience. "I find running to be an incredible opportunity for prayer and to talk to God," she tells ISRAEL21c.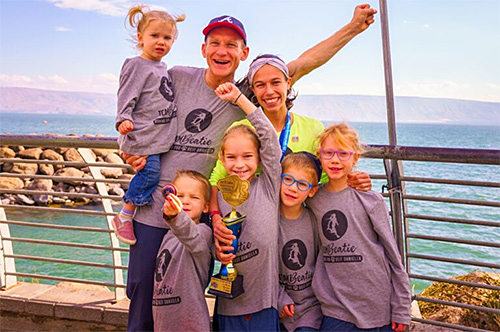 The joy, she says, is in "being alone, discovering a new place and soaking in every tiny detail of the world around me."
Running, she says, "creates an attitude that spills over into all areas of our lives, demanding more from ourselves, striving to become the best version of ourselves, pushing past perceived limitations, stepping out of our comfort zone."
But that's not all that brings her satisfaction. "Being a mom to my five children, including one with special needs," Deutsch says, "is definitely an accomplishment."